Tree House operating hours are from 8 am to 6 pm. We have kinder classes, which are from 9:30 am to 2:30 pm, and pre-school for 1 to 2-year-olds, which is from 11 am to 2 pm. We also offer more advanced eiken and activity classes in the afternoon. Of course, we also welcome non-Japanese students at Tree House.

In order to reduce the financial burden on parents, we offer the following sibling discounts.
1. Entry fee discount
Every entry fee after the first entry fee will be reduced by half.
2. Tuition discount
We will reduce the tuition of the student with the smaller tuition by thirty percent.

We accommodate for extended absences on a monthly basis. Tuition for that month will be reduced by half.

Kindergarten classes are every Monday – Friday (excluding holidays) from 9:30 a.m. to 2:30 p.m. Our operating hours for daycare are from 8:00 a.m. to 6:00 p.m. You can choose for your child to attend during either normal hours or the extended daycare hours (additional fees apply), and you may change your child's schedule on a month by month basis.
Pre-school students can come to school two, three, or five times per week (Monday – Friday). This schedule is also changeable on a month by month basis. However, we cannot always guarantee that you will be able to choose the days that you desire. Advanced class students can attend classes one, two, three, four, or five times a week depending on if the classes offered match with the student's English ability. You may change your child's schedule on a month by month basis.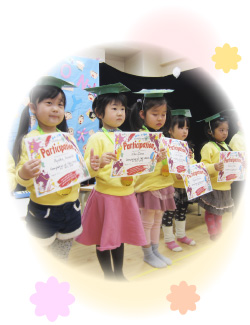 Excluding 5 day a week students, students who meet the following two conditions are eligible for make-up days.
1. There is room in the class on the day on which you wish to schedule the make-up.
2. That you schedule the make-up to take place between that month and the month after the absence occurred.

In order to accommodate for families whose parents have to work every day, our school will try to be open even in the event of a weather warning. Please be careful when coming to school in dangerous weather.

Yes, if your child is a preschool or advanced class student, you must decide your child's weekly schedule ahead of time. However you may amend your child's schedule on a month by month basis.

At Tree House, we understand that holidays can interrupt your child's weekly lesson schedule and be especially unfair to children to attend on Mondays. In order to fix this issue we have a system by which we replace a different day of the week with Monday's schedule and student roster. (This does not apply to Kindergarten students as they attend class everyday Monday – Friday).

We can extend our day-care hours for you until you are able to come pick your child up. However, we will have to charge an extra "over-time" fee should you decide to pick your child up after 6:00 p.m. As well, please give us a call ahead of time if you suspect that you're going to be late.